Cascada
Cascada is a graphical app for the complex task of managing key performance indicators (KPI).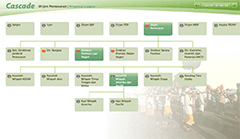 Graphical presentation of KPI is easier to understand and enables successful KPI implementation.
Like cascades, performance indicators are derrived from top management's objectives and goes down to staff's tasks. Cascada simplifies the complexity of KPI by presenting indicator's relationships in hierarchial graph.
Cascada is currently being implemented at the Department of Culture and Tourism Indonesia.