Cascada
Helios is simplifying the complexity of 360-degree behavior assessment system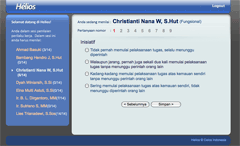 Relaxing workflow encourages sincere 360-degree assessments.
360-degree assessment requires every personnel in organizations to be appraised by their manager, subordinates, and colleagues. A firm of 50 employees calls for at least 150 assessments, while larger one may be as complex as thousands of forms.
In partnership with Celos Indonesia, we developed Helios, a computerized 360-degree assessment system to enable enterprises performing quarterly assessments efficiently and securely.
Helios simple user interface is usable even for non-computer user. Questions are linearly presented, and allows assessors to skip certain question and get back to it later.
As organization frequently evolve their assessment tools, Helios stores results historically, allowing past assessments remain intact.