SalingSilang
SalingSilang gathers top articles and connect users in its network.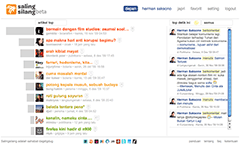 SalingSilang's "racing" ui presents top articles in the family.
At its core, SalingSilang is a single-sign-in (SSO) system for all sites in DagDigDug network. This requirement presents a challenge in itself, as best-practices for multi-domain SSO is not widely available.
Thriveta created a multikey method to allow seamless login experience.
SalingSilang Portal ranks top articles in its network. With strong directions from Mr. Antyo Rentjoko of DagDigDug, we come up with simple visuals to present vast amount of top-ranks articles.
SalingSilang Profile streamlines user activity into a single unified page.